News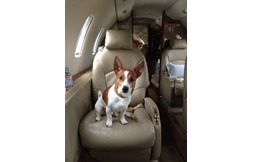 Pet Handling
Monday, 10th June 2013
INFLITE The Jet Centre Ltd at London Stansted Airport has been given approval by the Government to handle the transport of pets travelling to the UK under the Pet Travel Scheme (PETS).
Owners of dogs, cats and ferrets can now ship their furry animals on flights into Stansted via INFLITE the Jet Centre from overseas. The team at Inflite have been trained by the Animal Health and Veterinary Laboratories Agency (AHVLA) Office to meet pets and their owners on arrival and carry out passport checks and scan animal microchips.
Penny-Annette Stephens, Director of Inflite the Jet Centre, said:
"Inflite's specially trained staff will meet the aircraft on arrival and, together with the owner, check the pet's passport and micro-chip. The pet and owner will be then free to disembark the aircraft and once having cleared UK Border Agency they can continue their journey in the UK. The arrival process is extremely hassle free and considerably shorter than at other UK airports."
London Stansted is the 3rd largest in London (4th in UK) handling around 18 million passengers a year. It boasts an impressive and growing range of transport links that benefit from close proximity to the M11 and A120, as well direct trains to London and Cambridge.
For more information about transporting a pet into the UK phone Inflite on 01279 831000 or email operations@inflite.co.uk