News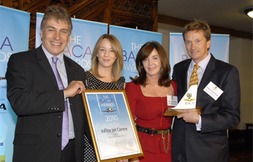 Inflite win BACA award (for second year!)
Sunday, 11th November 2012
Stansted VIP handling agent Inflite the Jet Centre has received a top industry award for the second consecutive year.
Inflite the Jet Centre was named Best Handling Agent at the Baltic Air Charter Association (BACA) Luncheon Awards, held at London's Guildhall. The annual awards are voted for by BACA's members, which include air brokers, airports, business aircraft operators and owners.
Penny-Annette Stephens, Director of Inflite the Jet Centre, was presented with the trophy by Patrick Margetson-Rushmore who sponsored the Best Handling Agent 2010 award.
The awards were hosted by guest speaker, TV sports presenter John Inverdale.
Inflite, were against high calibre competitors and to win this award was a mile stone for this family run company.
Mrs Stephens gave a passionate speech thanking all at Inflite for their hard work and to the voters for their support throughout the year. BACA Members represent the elite of our trade, she added, to be voted FBO of the Year by them for the second year running is the highest accolade.
Stansted Airport came out on top at the awards with not only Inflite winning but also Titan Airways, based at Stansted Airport, were named Best Passenger Charter Airline for the third time in five years.
Inflite has grown over the year with the launch of a new 53,000 sq ft hangar making a total of four heated hangars on the airport. They are the longest standing FBO at Stansted and continue to shine in all areas of the business.